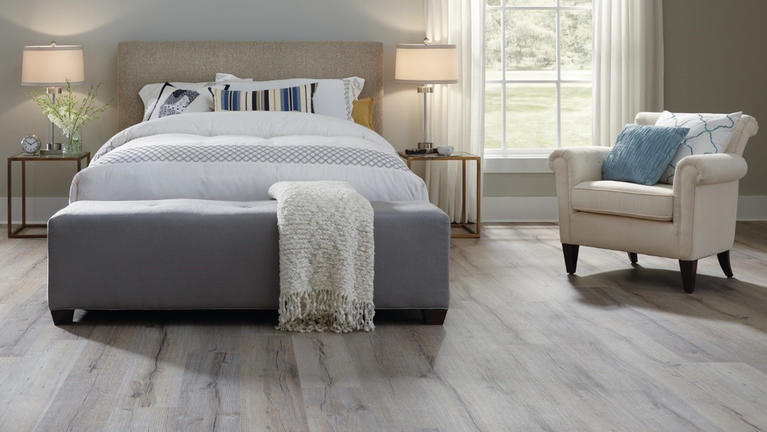 Top Six Tips for Tracking Trends Like a Pro
Our senior design manager, Traci Kloos, presented at Voices from the Industry at KBIS 2016 about becoming a trend tracker. The National Kitchen & Bath Association's Kitchen & Bath Industry Show (KBIS)  is part of Design and Construction week, which brings together more than 110,000 design and construction professionals in the largest annual gathering of the residential design and construction industry. In Traci's presentation, she discussed how to be a trend tracker to a wonderful audience of kitchen and bath designers. Trend tracking is a requirement for designers, but you don't have to be a professional to be an authority on trends. You can trend track yourself to get the most out of your love of design, tap into your creativity and perhaps most importantly, decide if you should skip the rose gold or embrace it wholeheartedly.
Know your history. Design is cyclical. What goes around will come around again—eventually. We've seen this with bell bottoms and we've seen in it home interiors. Evolutions are usually interpreted in a new way, so knowing the past will help you decipher what will happen in the future. Look at pickled finishes from the '90s –now we call that a more sophisticated cerused.
Keep your eyes open. Be on the lookout for new or emerging trends and subtle shifts to what exists in the market today. True trends have longevity and often have many different iterations along the way. As a trend moves through its lifecycle, it will continue to shift and evolve. The Steampunk trend emerged in 2008, despite Steampunk being a bit too much for a lot of people, it gave way to the Industrial trend in 2012 and to the much easier to work with Authentic trend we see today.
Always ask questions. Everything that happens in the world will affect design in some way. Maybe not today and not directly but, it will eventually. Think of this as the six degrees of design. Technology has made huge advancements in recent decades and now it's becoming common place to have touch screen computers built into your refrigerator. A few years ago, if you wanted to watch the news while cooking dinner you'd need to take up counter space with a television, but now you can check email, watch your favorite show and see if you're out of milk from the door of your fridge.  Keep asking yourself how design will be affect by the world around us.
Be visual. With all the media out there today, information overload can happen quickly. Old school mood boards or online resources such as Pinterest are great ways to keep track of inspiration, ideas and advice. Pinterest is especially helpful because it tracks the source of the information so you can come back to it again and again. Use cross functional sources for your information so you can return to them when you're ready to start your project. And don't be shy about showing your interior designer or home center sales person what you've clipped or pinned. Mood boards and pin boards are a great starting point when working with design professionals. You'll feel more confident in your choices and no long have to chase down that swatch you loved from that one place a few months back.
Network. Look for home stores or interior design firms in your area that host cocktail parties or educational seminars. These are a great way to pick up a new skill or meet someone new (especially if you're considering working with a designer). Social media makes it easier than ever to find people with interests similar to yours or who have already tackled a project you're about to start. Look for Facebook groups, shared Pinterest boards or blogs with tastes similar to yours. We have a list of online resources below to get you started.
Get out there. Don't be shy about sharing your own knowledge either. Start a blog to document your home renovation or how you redecorated your guest room on a dime. We're in the midst of the social age, so get out there and share what you know. 
Blogs to Read
Bloglovin' helps you keep track of your favorite blogs, and curate new blogs you might like based on your interests.
Apartment Therapy is a lifestyle and interior design community sharing design lessons, DIY how-to's, shopping guides and expert advice for creating a happy, beautiful home.
Design Sponge is your home for all things design related.
Décor8 is a design and lifestyle blog featuring fresh finds, inspiring interiors and ideas for creative living written by an interiors author, freelance writer and stylist.
A Beautiful Mess is a home decor, recipes + daily life by Elsie Larson and Emma Chapman.
Design Milk is a design blog featuring interior design ideas, architecture, modern furniture, home decor, art, style, and technology founded by Jaime Derringer
Domino magazine is an indispensable resource that makes decorating accessible and achievable rather than overwhelming. Domino offers practical advice on "how to use" and "where to get" products for your home.
Inhabitat focuses on the future of design
Trend Sites to Vist
Trend Curve is a trend service focused on the home interiors industry. 
Trend Tablet is Lidewij Edelkoort and her company Trend Union. She is a fashion trend and design guru.
Stylus is a trend and innovation advisory firm. The have a great blog that features a lot of interesting trend data.
TrendSpottr is a site for trend tracking and innovation. They also feature bloggers to follow.
Core77 features industrial design concept and ideas it will also give you insight into new material and technology innovations.
Dwell publishes a newsletter with all things design.
TrendWatching is a free newsletter featuring global trends and implications. They also offer a paid service.
Dezeen is an achitecture and design on line magazine.