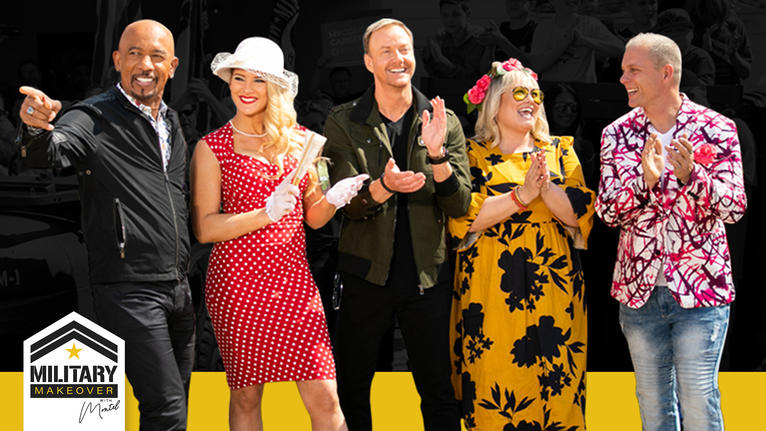 Marquez Family Military Makeover - Dacula, GA
Tarkett is proud to bring you another Military Makeover.
We teamed up with our friends from Dalton Carpet One to install over 1,500 sq. ft. of flooring for our newest home make-over with the Marquez family from Dacula, GA. We were proud to partner with Military Makeover to help renovate the Marquez family's home and serve Marcelino Marquez after he gave so much in service to his country. To learn more and meet the Marquez family, click here to see their full story. For the flooring install, the Marquez family and designers chose one of our newest ProGen Stones rigid core designs for the laundry room and bathrooms and went with NuGen luxury vinyl planks for the rest of the home.
To learn more about the specific flooring products installed in this makeover, click on the links below
Room Installations
Installed in the Marquez Family's Kitchen, Living Room, Office, Kids Bedroom, and Master Bedroom and Closet.
Waterproof so it's safe to use in kitchens, bathrooms, or laundry rooms.
No acclimation time required. Buy and install immmediately after purchase.
Overcomes subfloor imperfections and telegraphing, unlike traditional luxury vinyl tile.
Stands up to kids, pets, high heels, and heavy furniture.
The acoustical backing provides superior sound absorption and overall comfort.
NuGen GlueDown Mineral Oak Long Grain Click:
Installed on the Marquez Family's Stairs.
Installed in the Marquez Family's laundry room and both bathrooms.
New stone design for 2020. 
100% waterproof; safe to use in any room that encounters water.
Installs with basic hand tools, even over existing floors, saving time and money.
Ultra-durable material stands up to kids, pets, stains and heavy furniture.
No temperature limits, won't buckle or warp from water or sunlight.
Tarkett Provides Upgrade for the Marquez Family
LVT: NuGen Stair Installation