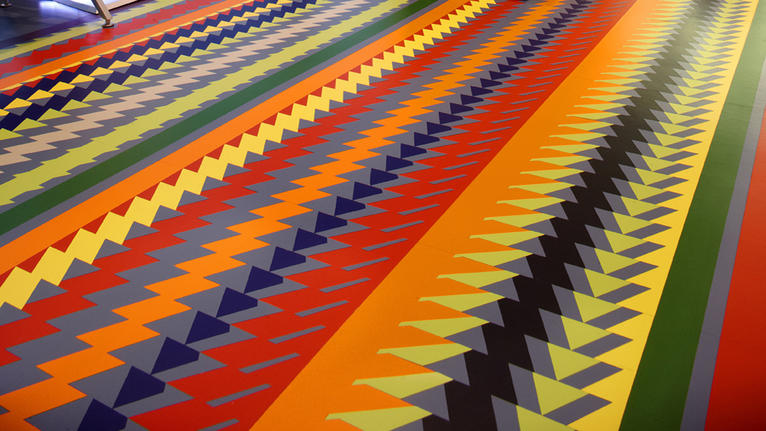 Floorcraft Design Service US
Personalised flooring designs can have a major impact on the look and feel of your space. The floor participates to a unique and special environment and affects people's wellbeing indoors. Whether it is to stand out from the crowd or to help people find their way in your building, our floors can be combined for a stylishly simple or impressively intricate result.
Custom floor designs for your needs
The Floorcraft Design Service enables you to add those special touches, such as company logos, graphics or stunning effects, to your flooring choice. Together we can create unique designs built on your ideas or our designs catalogue and work together to bring them to life.

Once the look has been finalised, we'll digitise the design before sending it out for precise, sonic cutting. The result: intricate, high-quality designs that fit together perfectly. What's more, our designs are pre-assembled, and therefore don't require any specific installation skills.
A design team that works for you
We have been offering this unique and versatile service since 1993, helping designers, architects, planners and building owners to make the most of this creative opportunity in a wide range of sectors — including health care, aged care, retail, and education. Check out our photo gallery and contact our experienced design team today to learn more about how we can give your space a new identity: floorcraft@tarkett.com or call at +44 (0) 1622 854 155.
To view a portfolio of design possibilities, please download our Floorcraft Design Service brochure (3 MB PDF).