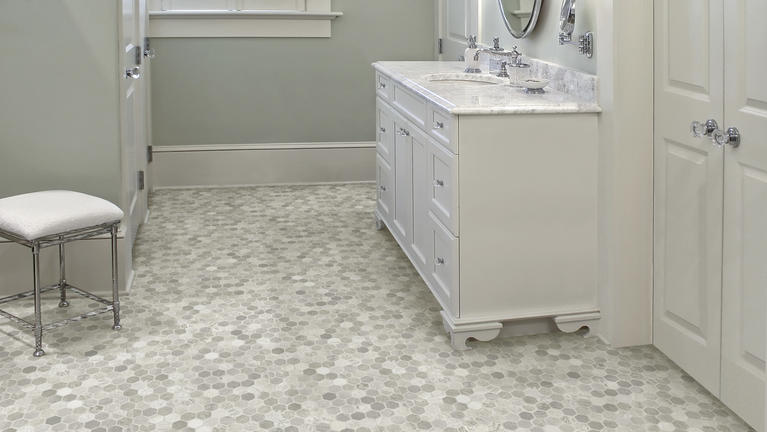 DIY: Three Easy Ways to Update your Bathroom
Bathroom makeovers can seem like one of the most daunting rooms in the house to redo, but this is also where the potential for increased value to your home is. Plus, a few quick swaps is all it takes to see a huge difference. Try replacing the floors and adding a new shower curtain. You can also add a bit paint, if you're feeling ambitious. Below are our perfect pairings for taking your bathroom from drab to a space you enjoy.  
Nautical
FiberFloor Dakota Oak in a spicy nutmeg color makes a perfect base for a brightly printed shower curtain. Check out the shower curtain with the crisp, white and navy stripes and a saucy crab on our Pinterest. It reminds us of days by the ocean.
Light and airy
White on white makes a space look larger, so pairing a Transcend Travertine in a creamy white is an excellent choice for small baths. Plus, luxury vinyl tiles are easy to install and provide great water resistance for bath time splashes. We especially like the idea of a pastel beach motifs afloat on a sea of white. We've pinned a cute example on Pinterest. 
Modern Arabesque    
Intricate tiles and a contrasting medallion border shower curtain would work well in a variety of bathrooms. The walls could be blue ranging from sky to navy or for the purist, white would work well. For flooring we'd go with a broken paver in FiberFloor called Pompano Carbon from our Lifetime collection. The random design doesn't conflict with a print shower curtain, but rather enhances it with richness underfoot.