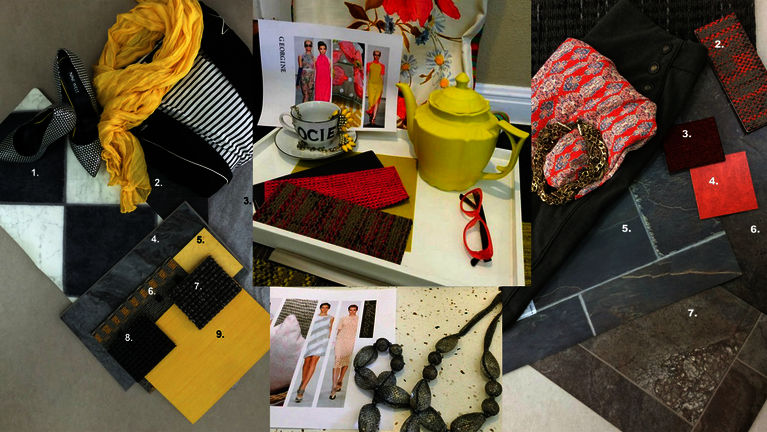 Design Inspiration: New York Fashion Week 2016
Olive green is the neutral many people forget about. It pairs well with other neutrals such as grey, brown and tan. Pair it with an unexpected pop of color to liven up the green with a bit of unexpected whimsy. This olive green color palette inspired crisp looks of military precision on the 2016 New York Fashion Week runway. The addition of brightly colored accessories made it feel new and fresh. A little bit of color goes a long way with this timeless color. The rich tones of orange, persimmon and rusty rose were my favorite with this look. In your interior design, try using this rich accent as a border or as an accent block within a modular carpet tile layout.
Tarkett FiberFloor is a great neutral base for your olive green color palette. A few of my favorites are from the Easy Living Collection. Sylvanova Slate is rustic yet refined while the modular design of Seattle Smoke provides a more modern twist to classic stone look. Add your color accent in soft goods, like pillows and small décor pieces. If you are really feeling daring, try adding your pop of orange in a painted accent wall. To complete your design, try bronze accessories in combination with your olive green color combination for the ultimate in true Military inspiration!
Tandus Centiva: Rock Solid in Desert Rose | Esparto in Rare Earth | Cartography in Boundary
Black and white is a classic staple on the runway and in home interiors. Try using black and white mixed with strong pattern elements for a modern new twist. You can select ANY accent color to partner with a black and white color combination- one of our favorites is a bright and sunny yellow. In your flooring design, this material can be an accent stripe of color in rubber or linoleum. Incorporating this into an accent carpet feature is also a great way to add color to your graphic black and white design. For a textural element, try using carpet framed as an area rug.
The easiest way to capitalize on the graphic black and white trend is by using Tarkett FiberFloor French Marble from the Lifetime Collection. It is the black and white check that is the quintessential "must have' to complete this classic look. Try using multiple products in your design. We ,ove the texture and color combination of Tarkett Permastone Rush Moonstone and Sandstone Maui Sand. The floor design possibilities are endless using these two products. Try a classic clack and white check designs using alternating 16'x16′ tiles. You can also create a graphic stripe or herringbone design. 
Tandus Centiva: Full Volume in Bedrock | Pebble Mesh in Shadow Stitch
Check out our NYFW Pinterest board!