Luxury Vinyl Tiles and Planks
|
Luxury Vinyl Tiles and Planks
Transcend™ SureSet™ - Cascade Travertine Café
SureSet Technology allows for simple, fast installation and stands up to high traffic areas, absorbs sound and can be installed in areas with high moisture. The unique sculpted wave backing system makes the product flexible, pre-applied adhesive for quicker installation and re-positional for easy installation experience. SureSetTM Technology is a waterproof* solution that allow you to use your space immediately after installation and can be installed in all areas within you home. Transcend SureSet is protected by a Tritonite®-reinforced urethane finish layer for protection against scratches, scuffs, stains and wear.*See warranty for details
Technical and environmental specifications
Professional warranty (in years):
10 year limited
Residential warranty (in years):
Lifetime limited
Pattern:
Cascade Travertine
Find your Cascade Travertine Café to suit your needs
Transcend's Sureset Technology
Reinforced urethane finish layer for protection against scratches, scuffs, stains and wear.
Heavy-duty clear and embossed wear layer prevents rips, tears, gouges and indentations.
Print film for beautiful, realistic wood or tile designs.
Fibercore™ stability layers fiberglass mesh and cross directional layers prevent gaps and keep the floor lying flat.
A uniquely sculpted wave backing system allows air and moisture in the subfloor to breathe.
Factory applied re-positionable adhesive for faster installation.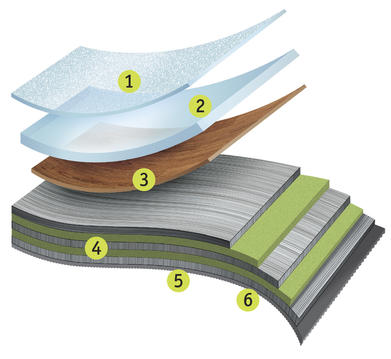 Technical & Environmental Specifications
| | Standard | Tarkett value |
| --- | --- | --- |
| Professional warranty (in years) | - | 10 year limited |
| Residential warranty (in years) | - | Lifetime limited |
| Pattern | - | Cascade Travertine |
| Pattern type | - | Mineral |
| Format Type | - | Tile |
| ASTM Product type | - | Solid Vinyl Floor Tile (ASTM F1700) |
| Surface treatment | - | Polyurethane - Reinforced |
| Total thickness | ASTM F386 | 0.175 " (4.50 mm) |
| Wear layer thickness | ASTM F410 | 20 mil (0.50 mm) |
| Installation method | - | Self-Adhesive |
| | Standard | Tarkett value |
| --- | --- | --- |
| Phthalate content | - | Phthalate-free |
| Floorscore certification | - | Yes |
Select your language

All languages
English (US)
French (Canada)
Head to our Documents page to easily find installation guides, technical factsheets, or product specifications
VISIT THE DOCUMENTATION CENTER
Learn more about Transcend™ SureSet™
SureSet Technology allows for simple, fast installation and stands up to high traffic areas, absorbs sound and can be installed in areas with high moisture. The unique sculpted wave backing system makes the product flexible, pre-applied adhesive for quicker installation and re-positional for easy installation experience. SureSetTM Technology is a waterproof* solution that allow you to use your space immediately after installation and can be installed in all areas within you home. Transcend SureSet is protected by a Tritonite®-reinforced urethane finish layer for protection against scratches, scuffs, stains and wear.*See warranty for details